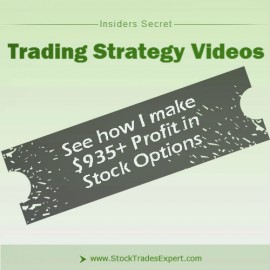 This short video is an *excerpt* from a video we did for the StockTradesExpert.com home study course.
We are into expiration week and we have a profit on our portfolio of $935+ so far!
Remember for these videos we are trading very small. If we had a few more contracts our profits would be into the thousands of dollars…
There are risks associated with holding positions into expiration week – and in this video "Trader X" shows you how he purchased short-term "insurance" over the weekend to protect the profits… this is one of the most exciting aspects of options – they can protect as well as increase wealth.
This one is totally un-edited:
I hope you are really starting to understand how powerful this system is, and how it could change your life.
Enjoy the video 🙂
Check out the video below
Please enter your comments or thoughts on the video or your trading strategy in general.
Related posts